Jillian Horton: We Are All Perfectly Fine
March 4, 2021 at 12:00pm
The Faculty of Arts and Humanities at Western's Duncanson Lecture Series, The Department of Medicine's Grand Rounds, and the Words Festival are pleased to present:

Jillian Horton: "We Are All Perfectly Fine"
4 March, 12PM
Hosted by Dr. Andrea Lum

When we need help, we count on doctors to put us back together. But what happens when doctors fall apart?

Funny, fresh, and deeply affecting, We Are All Perfectly Fine is the story of a married mother of three on the brink of personal and professional collapse who attends rehab with a twist: a meditation retreat for burned-out doctors.

Jillian Horton throws open a window onto the flawed system that shapes medical professionals, revealing the rarely acknowledged stresses that lead doctors to depression and suicide, and emphasizing the crucial role of compassion not only in treating others, but also in taking care of ourselves.

After her talk, Dr. Andrea Lum, Vice Dean of Faculty Affairs at Schulich, will host a question and answer period.

Hosted by the Faculty of Arts & Humanities, the Duncanson Lecture stimulates both thought and discussion with regard to the importance of humanities scholarship, and related engagement, to a meaningful search for ways to exert a positive influence on complex contemporary and future problems and challenges.

In partnership with the Faculty of Arts & Humanities, the Schulich Medical School, the School for Advanced Studies in the Arts & Humanities, the Department of English and Writing Studies at Western, and the Words Festival.
Zoom Registration Here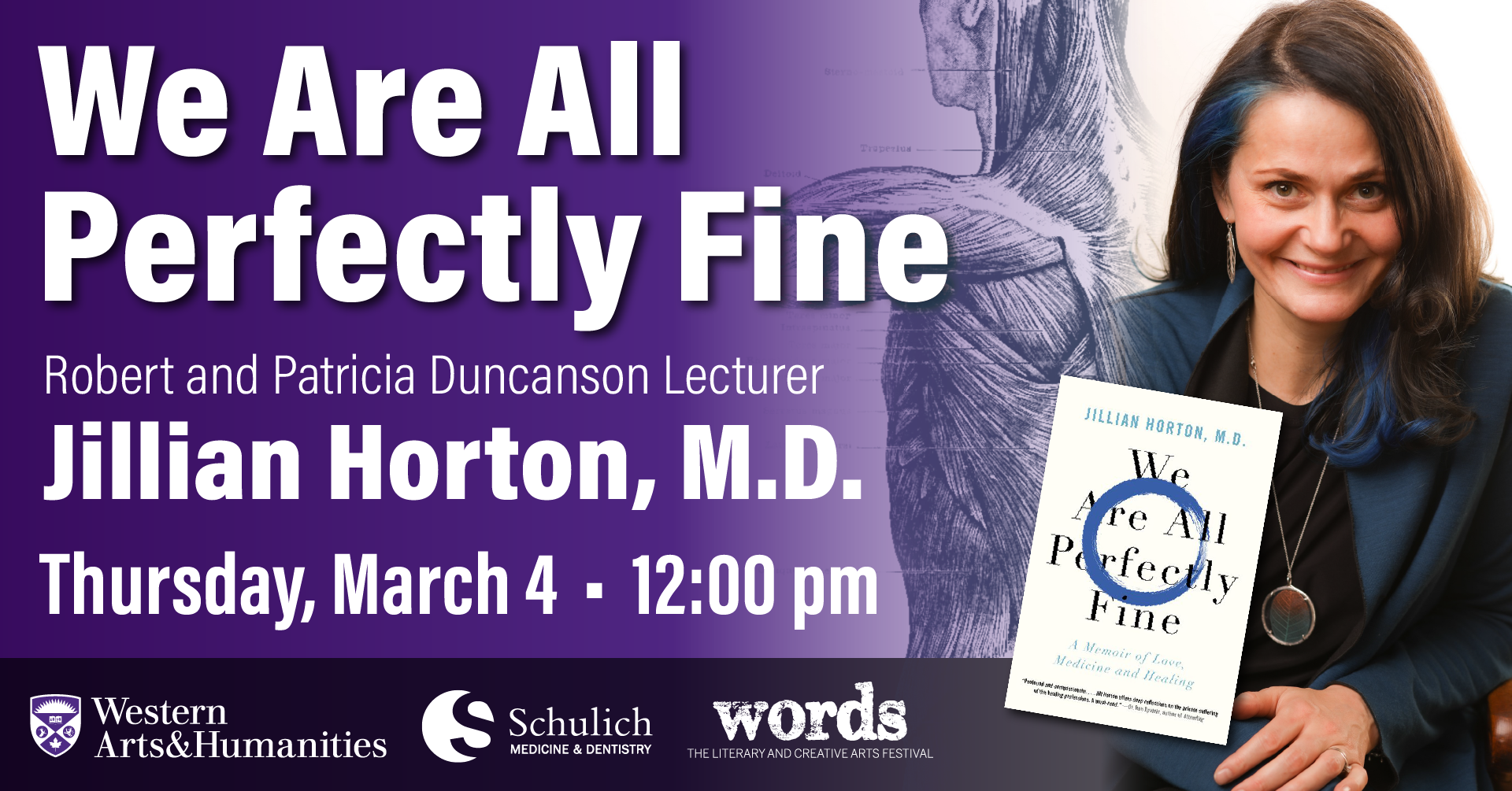 ---
Authors & Presenters
---