​Forest City Murder: Dr. Cream, the Donnellys, and other true stories of homicide in 19th-Century Ontario
November 12, 2021 at 7:00pm
Join us at Words as we visit with three writers who explore two notorious cases of homicide in 19th-century Ontario!
Forest City Murder: Dr. Cream, the Donnellys, and other true stories of homicide
Featuring Keith Ross Leckie, Dean Jobb, and John Little
Hosted by Vanessa Brown
12 November 2021, 7PM
The story of the Black Donnellys has become a fabled piece of Ontario history. The Donnelly family emigrated from Ireland to the township of Lucan Biddulph in the Ontario countryside. They found themselves, after a few years, in conflict with the local people. In February of 1880, an organized mob murder four Donnelly family members and burn their house to the ground. Another sibling is shot to death in a house a short distance away. William Donnelly and a teenage boy are the only witnesses to the murders. The surviving family members seek justice through the local courts but quickly learn that their enemies control the jury and the press. Two sensational trials follow that make national and international headlines as the Donnellys continue to pursue justice for their murdered parents, siblings and cousin.
We will visit with John Little who has published a two-volume historical account of the Donnellys (The Donnellys, Volume I: Powder Keg, 1840–1880 / The Donnellys, Volume II: Massacre, Trial and Aftermath, 1880–1916). We will also visit with Keith Ross Leckie whose new novel, Cursed! Blood of the Donnellys, is a fictional account of the notorious family and that time in Canadian history.
Around the same time, Thomas Neill Cream is suspected of killing a female patient in London, Ontario. He flies to Chicago where he would kill as many as four people. After serving ten years in an Illinois prison, Cream was set free in 1891 – and headed for England to unleash his wrath on the prostitutes of London. In his new book, The Case of the Murderous Dr. Cream: The Hunt for a Victorian Era Serial Killer, Dean Jobb explores the story of how Dr. Cream killed as many as ten people in three countries, a rampage that eclipsed the crimes of the notorious Jack the Ripper. The Lambeth Poisoner, as he was dubbed, became one of the most prolific serial killers in history. Jobb reveals how bungled investigations, corrupt officials and failed prosecutions allowed Cream to evade detection or freed him to kill.
Zoom Registration Free!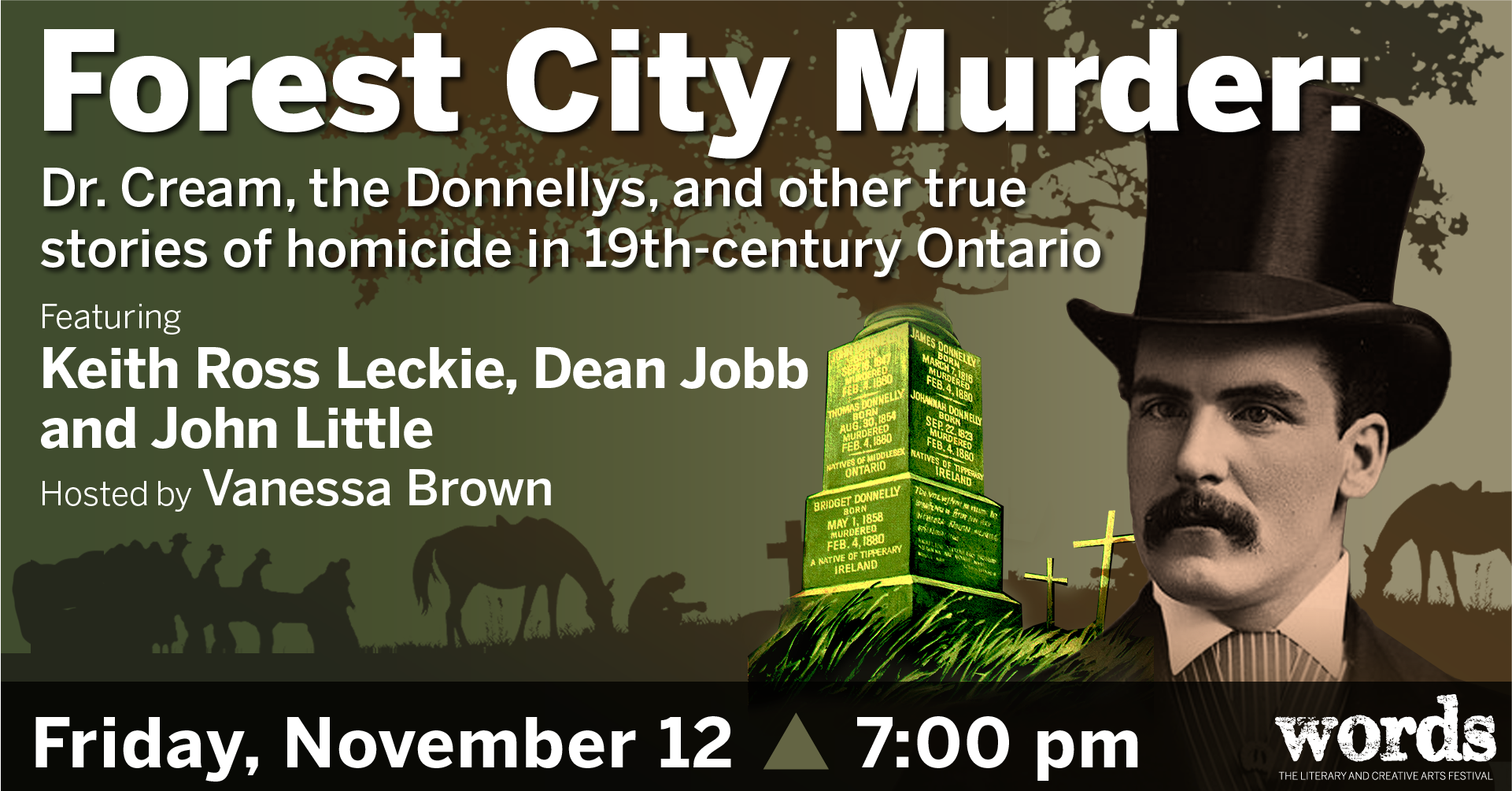 ---
Authors & Presenters
---