Building a Creative Community: A Workshop on Performance and the Performing Arts in London
November 18, 2023 at 1:00pm
Building a Creative Community: A Workshop on Theatre and Performance in London
Keynote Presenters: Camille Intson & Jillian Keiley

18 November 2023, 1 PM – 6:00 PM
Weldon Library Community Room, Western University
Free to All
Why a workshop on the performing arts now? Listen to our CBC London Morning interview HERE! You can read about the event here.
The main purpose of our workshop, "Building a Creative Community," is to inspire and cultivate dialogue amongst those in the performing arts community in London, with a keen eye towards the creation of multidisciplinary collaborations and the exchange of knowledge between groups on Western's campus and in the City of London.

We envision the field of "performance" in the broadest possible terms, and invite participation from those involved in music, dance, theatre, opera, spoken word poetry, storytelling, animation, media production, and more. We also want to hear from those who defy traditional separations between the artistic disciplines.

The arts and culture sector has been hit hard by COVID-19—and yet, we need the transformative power of the arts now more than ever. Taking up the question of how we can embed the arts in recovery strategies to rebuild our creative communities, we are inviting a dynamic group of interdisciplinary, intersectoral participants in the live arts who use performance-based practices in their research, teaching, and creative work.

Our workshop will explore the following questions: What can we do, as members of different communities based in London, to help dismantle barriers to knowledge sharing and collaborative learning and making in the city? What role does performance play in the education of the next generation of students and leaders in Canada? How can we centre the arts, and particularly the embodied, performing arts, to ensure accessibility and creativity go hand in hand? Where in London would collaborative learning and knowledge making be well placed?
Workshop Agenda
1:00 PM - 1:30 PM: Arrival & Pre-Workshop Conversation
1:30 PM – 1:50 PM: Welcome and Opening Remarks by Dr. Kim Solga and Words Artistic Director Josh Lambier
1:50 PM – 2:00 PM: Introduction of Camille Intson
2:00 PM – 2:45 PM: Camille Intson, "Can the Public Arts and the University Get Along?: A Talk for the Traumatized"
2:30 PM – 2:45 PM: Questions from the audience
2:45 PM – 3:00 PM: Health Break with light snacks, coffee, and refreshments
3:00 PM – 4:15 PM: Long Table Discussion with campus and community partners (based on Lois Weaver's model)
4:15 PM – 4:30 PM: Health Break

4:30 PM – 4:40 PM: Introduction of Jillian Keiley
4:40 PM – 5:30 PM: Jillian Keiley's Public Keynote Address, "All Together Now: Considering Community in Theatre Creation"
5:30 PM – 6:00 PM: Question & Answer from the audience
6:00 PM – 6:15 PM: Concluding Remarks
This community-engaged workshop is sponsored by the Faculty of Arts & Humanities at Western, the School for Advanced Studies in Arts & Humanities, the Department of English & Writing Studies, Western's Creative Arts & Production Program, Western's Academic Joint Fund, the Hume Cronyn Fund, the Public Humanities at Western, and the Words Festival.
Register to join us at Western University
Register to see Camille Intson's Keynote Address on Zoom
Register to see Jillian Keiley's Keynote Address on Zoom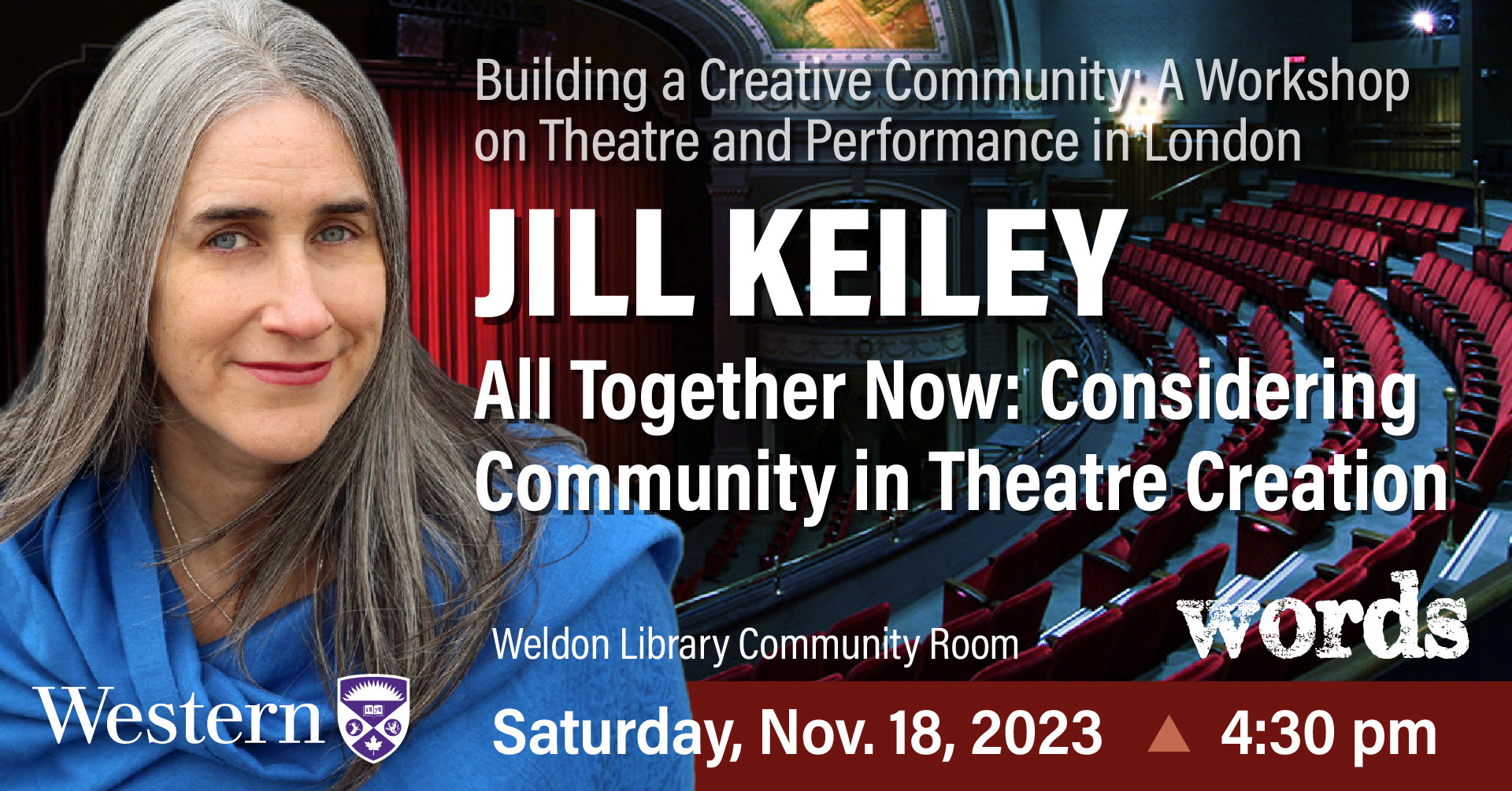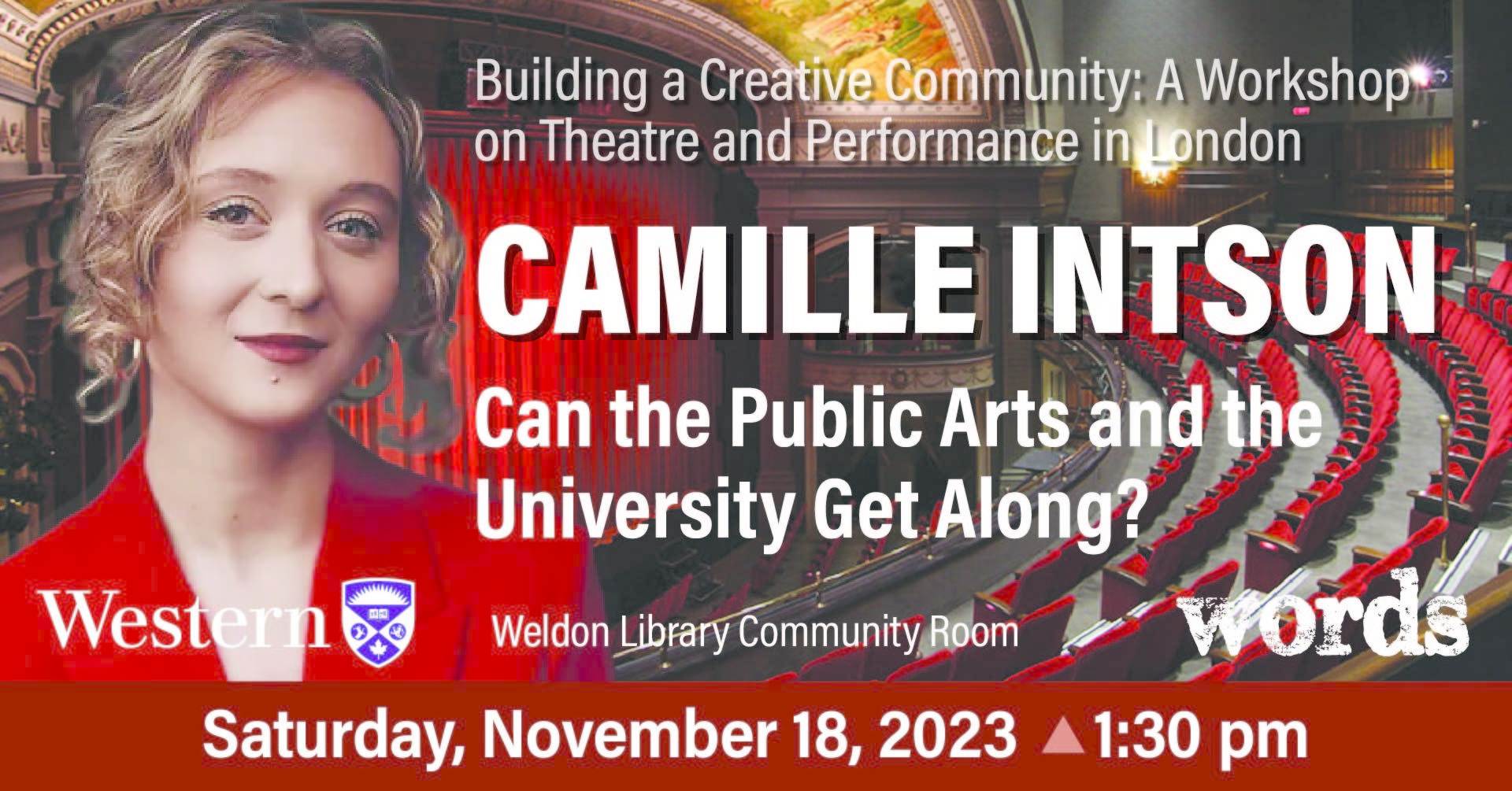 ---
Authors & Presenters
---
Location: