Ekphrastic Poetry: A Workshop with Kim Fahner and Frances Boyle
November 11, 2023 at 1:00pm
Join us at Museum London for a poetry workshop on ekphrastic poetry, featuring poets Kim Fahner and Frances Boyle!
Ekphrastic Poetry: A Workshop with Kim Fahner and Frances Boyle
Saturday, 11 November, 1PM - 2:30PM
Museum London
Registration is free or by donation
What is it about visual art that draws poets to talk back to it? Ekphrastic poetry allows a writer to enter a painting, photograph, sculpture or even a piece of music, and have a conversation with it. As a creative prompt, visual art allows a writer a place to begin playing with ideas, questions, curiosities, and to shape them in new ways, with words. The ekphrastic poem is not a mirror of the original piece of art, but a doorway into a different way of thinking about the art. The Academy of American poets says that "Modern ekphrastic poems … have tried to interpret, inhabit, confront and speak to their subjects."
Join award-winning authors Kim Fahner and Frances Boyle for a generative workshop where we'll talk about why we are drawn to ekphrasis in poetry and our creative processes. You'll hear about different types of ekphrastic poetry and have the opportunity to "inhabit and speak to" artwork, and to create a new draft poem or two.
Bring paper, your favourite writing implement and your curiosity. We encourage you to also bring a piece of art that particularly intrigues you (though we'll also have a selection of other artwork to choose from if you prefer). We suggest that you choose a piece that challenges you to dive deeply into the art, offering a place to spark a poetic conversation with creativity and art.
Kim and Frances have each published a variety of ekphrastic poems, both in their books and in magazines. For examples, check out Kim's "A Titanic Triad" https://www.ekphrastic.net/the... , and Frances's "Pieta (Triptych)" https://www.ekphrastic.net/the... .
Register to join us at Museum London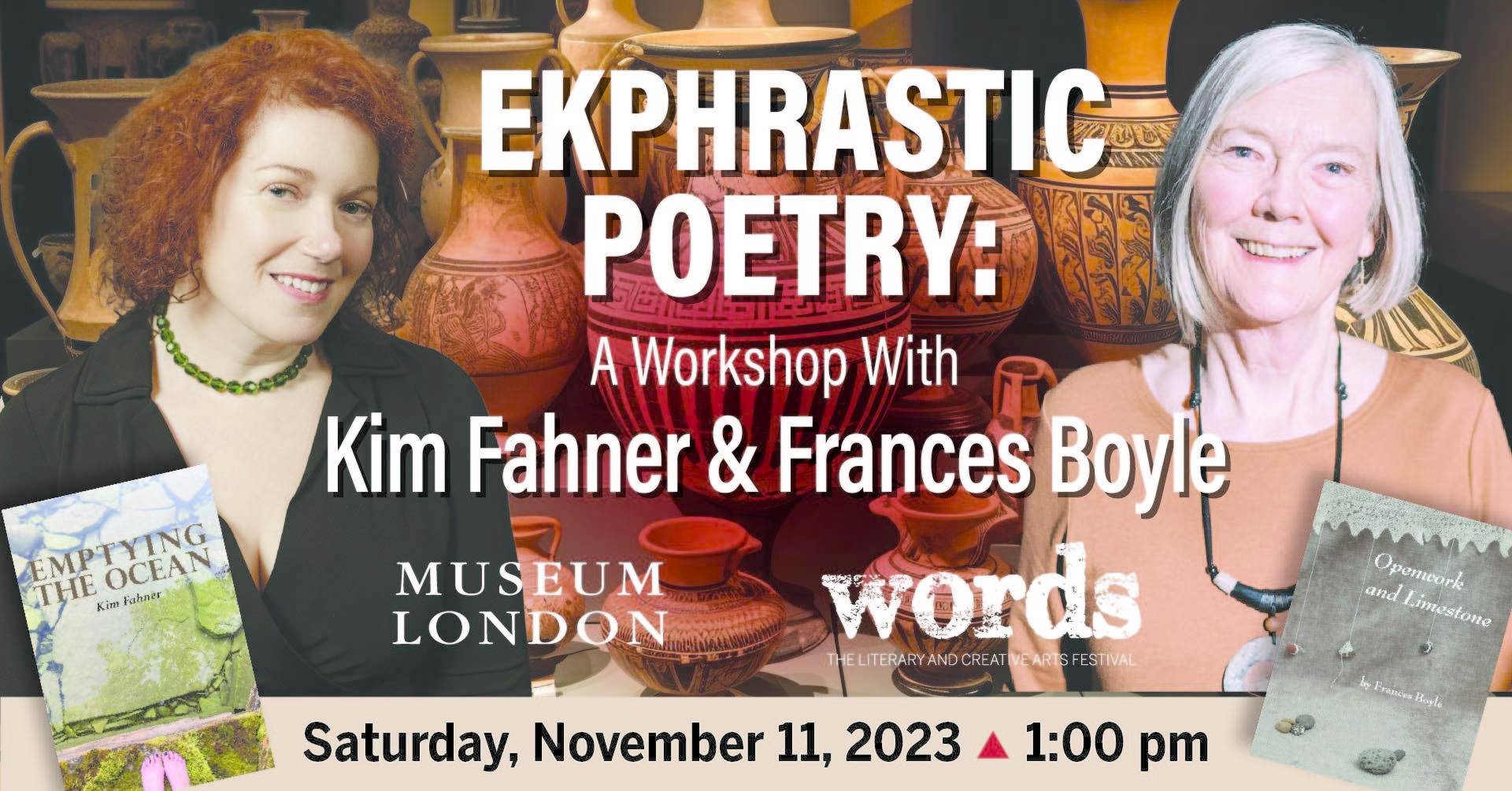 ---
Authors & Presenters
---
Location: