Emma Donoghue & Chris Roulston: In Conversation
November 9, 2023 at 5:00pm
Western University is excited to celebrate its new Creative Arts & Production (CAP) program, a unique, interdisciplinary option that focuses on creative arts practice, collaboration, and community. To salute the new program, CAP is teaming up with Words to host a visit with Emma Donoghue and Chris Roulston.
Emma Donoghue & Chris Roulston: In Conversation
Thursday, 9 November 2023, 5:00PM
Museum London
Reception to mark the official launch of the CAP program to follow
For more information about the CAP program, visit the program website.
Drawing on years of investigation and Anne Lister's five-million-word secret journal, Emma Donoghue's Learned by Heart is the long-buried love story of Eliza Raine, an orphan heiress banished from India to England at age six, and Anne Lister, a brilliant, troublesome tomboy, who meet at the Manor School for Young Ladies in York in 1805 when they are both fourteen.
Emotionally intense, psychologically compelling and deeply researched, Learned by Heart is an extraordinary work of fiction by one of the world's greatest storytellers. Full of passion and heartbreak, the tangled lives of Anne Lister and Eliza Raine form a love story for the ages.
Emma will be joined by leading Anne Lister scholar and Western French Studies Professor Chris Roulston, who recently edited a volume of essays, Decoding Anne Lister: From the Archives to 'Gentleman Jack'.
Now recognized as a UNESCO world heritage document, Lister's five-million-word diaries are paradigm-shifting in terms of their range of material, from social commentary and politics to breath-taking travel accounts. However, they have become most well-known for their explicit descriptions of same-sex practices, written in code and constituting a significant portion of their content. The essays here address the variety and interdisciplinarity of the diaries: Lister's negotiations with her own 'odd' identity, her multiple same-sex relationships, her involvement in politics and her lifelong thirst for knowledge. It also addresses Lister studies in popular culture through the successful Gentleman Jack BBC-HBO series, including an interview with Sally Wainwright and foreword by author Emma Donoghue.
This event is generously supported by CAP's three home faculties— the Faculty of Information & Media Studies, the Faculty of Arts & Humanities, and the Don Wright Faculty of Music—as well as by Museum London and the Words Festival.
Register to join us onsite at Museum London
Register to join us online via Zoom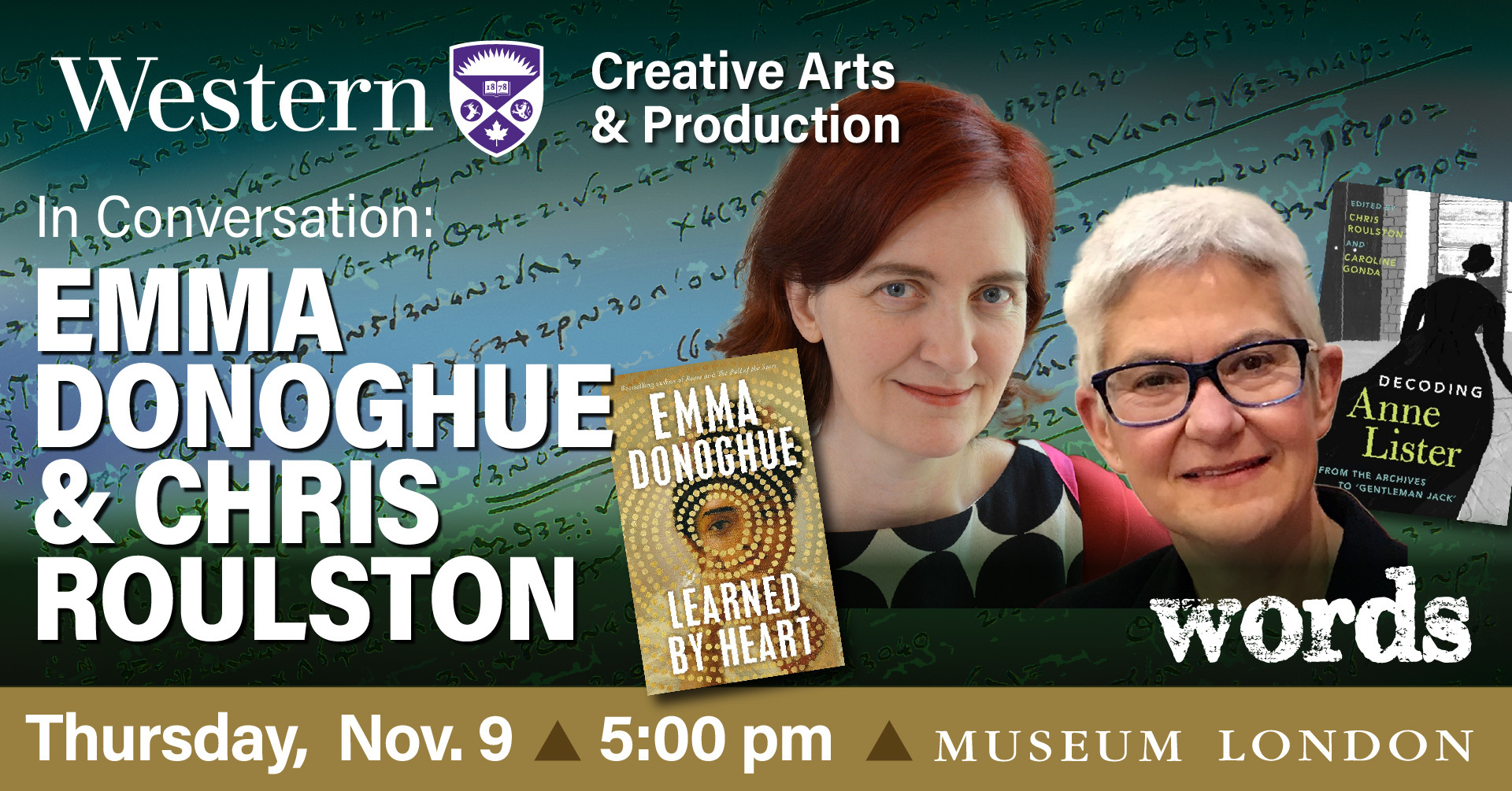 ---
Authors & Presenters
---
Location: