Poetry Live: An Evening of Open Mic Poetry at the Community Art Crawl
July 7, 2023 at 5:00pm
Greetings London Poetry Enthusiasts!
We're absolutely thrilled to announce the summer return of Poetry Live, our open mic poetry series! In partnership with TAP Centre for Creativity and Antler River Poetry, we will be hosting an afternoon open mic poetry event as part of the July Community Art Crawl on Dundas Place.
Our host for the event will be author and musician Misha Bower, and we will feature a performance by spoken word artist Fauzia Agbonhin!
Where: TAP Centre for Creativity, Dundas Place
When: 7th of July, 5pm - 7pm
Cost: FREE and open to all ages
Host: Author & Musician Misha Bower
Feature: Spoken Word Artist Fauzia Agbonhin
Register HERE
Bring a poem, bring your friends!
We also ask that everyone who plans to join us to register, so that we can send you further information about signing up to read at the event!
Bring your books & merch! If you have books and publications of your own – whether it's poetry, short fiction, drama, and more – we encourage you to bring it with you to sell as part of the Community Art Crawl on Dundas Place.
The Art Crawl respects and welcomes all forms of art and artists of all ages! Handmade items, creatives of various mediums, and unique upcycled items are encouraged! For more information about the Art Crawl, visit the website here: https://www.tapcreativity.org/...
Come on down to Poetry Live and read your work on Friday evening!
This event is held in partnership with Antler River Poetry, Poetry in Voice, TAP Centre for Creativity, and the Words Festival.
Register to join us here!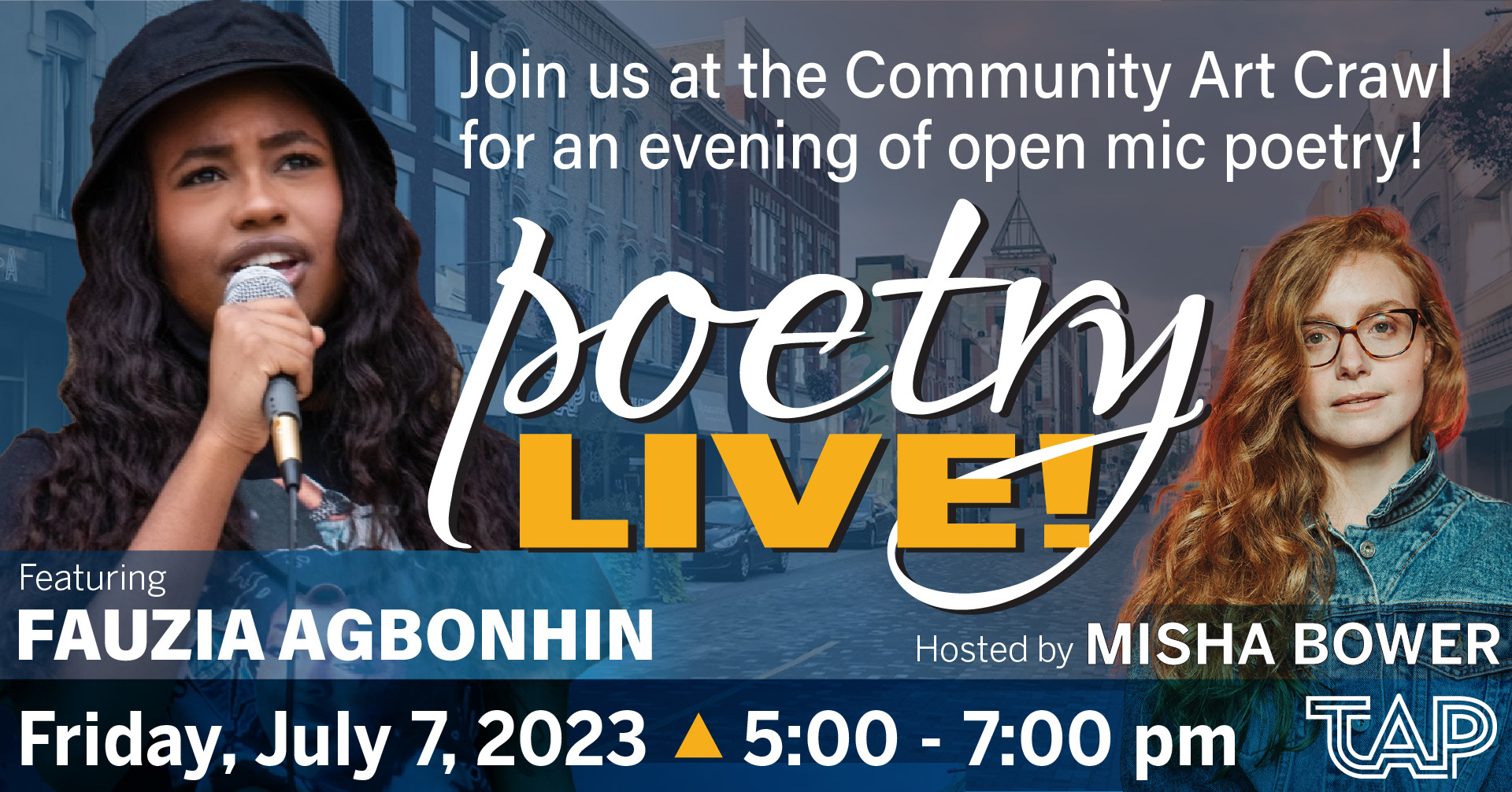 Location: