The Words Festival at a Glance!
November 4, 2016 at 7:00pm
Words festival unites the community for a celebration of creativity
From the page to the stage, Words returns to the Forest City for its third year of activities this coming weekend, November 4-6, 2016. London's literary and creative arts festival is set to bring the community together for a celebration of creative ideas that spark debate and ignite the imagination.
During the three-day event, participants will experience a spectrum of artistic forms including poetry, fiction and nonfiction, film, politics, music, spoken word performance, graphic novels, storytelling, and much more. Throughout the weekend, we will also host a community-wide local authors' book fair, with original works by London writers.
The opening reception at Museum London on Friday, November 4, 7 pm, will feature 2015 Giller Prize-winner André Alexis in conversation with Janice Zolf, followed by a stellar panel of authors that includes Canadian parliamentary poet laureate George Elliott Clarke, award-wnning graphic novelist Mariko Tamaki, Governor General's Award-winning playwright Robert Chafe, and bestselling novelist and Western alumna Jennifer Robson.
A chockablock schedule of events follows on Saturday, November 5th at Museum London. Highlights include Oscar-nominated novelist Emma Donoghue, Trillium Award-winner Kevin Hardcastle, as well as ecologist and poet Madhur Anand. Canadian composer John Beckwith will deliver the 2016 James Reaney Memorial Lecture.
Saturday evening features a special screening of the recently released film, Al Purdy Was Here, followed by a dialogue between the director Brian D. Johnson and poet Laurie D. Graham. To finish the evening, poetry aficionados are invited to share their own original work at our new open mic night, Poetry Live!, hosted by London's poet laureate Tom Cull and slam poetry director Holly Painter.
Words will continue on Sunday, November 6th with TVO host Steve Paikin, in conversation with former mayor Anne Marie DeCicco-Best. Sunday will also feature legendary literary editor Douglas Gibson, Western's writer-in-residence Margaret Christakos, graphic novelist Teva Harrison, London-born writer Nadia Bozak, and a musical performance by Indigenous artist Leanne Simpson and her band.
Words events are open to everyone. All events are free, with the exception of our opening kickoff. Tickets for the opening night reception at Museum London event are $15 for students and $20 for general admission, and can be purchased in advance through www.wordsfest.ca or at the door.
ABOUT WORDS
Words, London's festival of creativity through the written and spoken word, features emerging as well as established artists and creative thinkers from London, Canada, and beyond, with a commitment to the advancement of accessibility in the arts, cultural participation within the community, and cultural diversity in our programming.
For more information and a complete schedule of events and locations visit: www.wordsfest.ca
Website: http://wordsfest.ca/about

Twitter: https://twitter.com/WordsLDN
Facebook: https://www.facebook.com/pages/WordsFest-London-Canada/272177602952301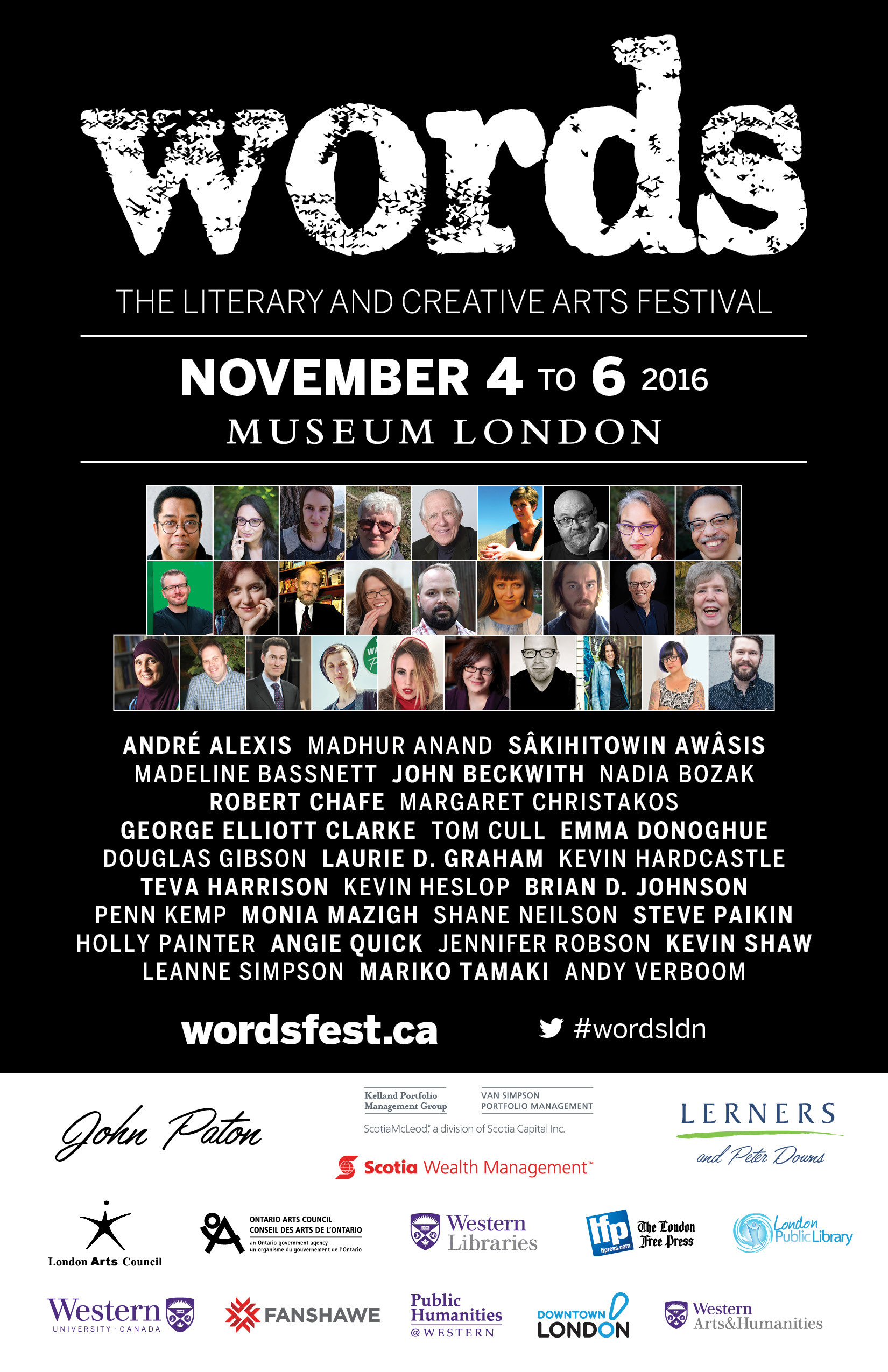 Location: